5 Reasons to Resurface Your Pool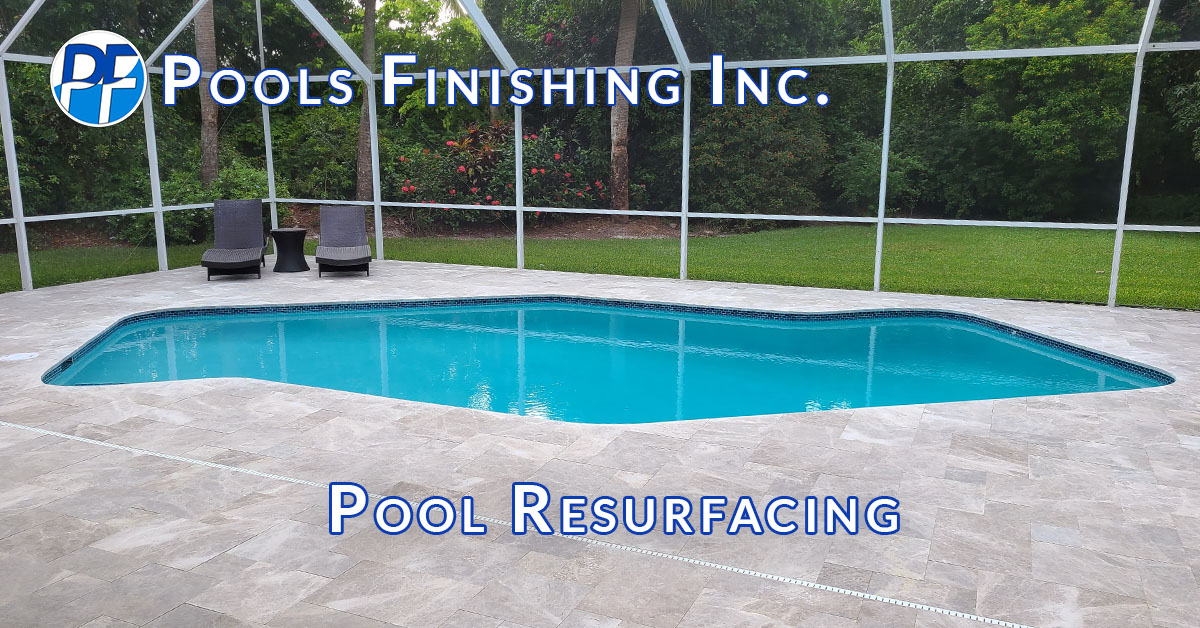 1) The Off-Season
The time of year when you're using your pool less.
Resurface your Pool before it starts to give you problems. This is an important quick guide to help you identify the signs & know when you should resurface your pool.
If you live in Florida year-round, you probably don't use your pool every day. Unless it is heated, many Floridians find it too cold to swim in the "Wintertime".  Maybe you're a snowbird and you will be away for a while, so your pool will just be sitting unused anyway.
Whenever it's your pools' off-season or your pool activities are minimal; this is the best time to resurface your pool.  You may not be thinking about it, but you have to still maintain the integrity of your pool so you can enjoy your pool to its fullest when you're ready. This may also be the perfect opportunity to have your pool remodeled with some upgrades like a sun shelf, hot tub spa, water features like fountains and waterfalls.  If you are enjoying your pool now, but notice some issues that need to be addressed, as long as they are not urgent, it may be best to plan ahead for scheduled pool repairs and/or resurfacing.
2) Pool Staining and Discoloring
Those unsightly patchy green and brown spots, Yuk!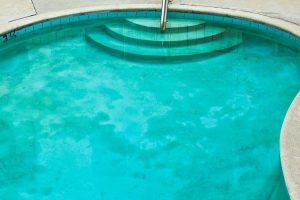 Pools can start to get discolored after years of wear and tear. These stains can come from the minerals, chemicals, or other materials in the water such as leaves and natural debris.
The stains may be algae, which will be a greenish shade or even reddish sometimes, depending on the type of algae. Try cleaning the surface with a brush, If your cleaning efforts are unsuccessful, it may be time to resurface the pool.
3) Uneven patches or Material Is Coming Off
Surface craters in your pool can hurt your feet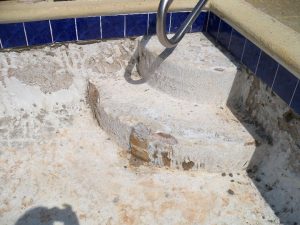 If your pool surface feels like sandpaper on your feet or there are areas that have come off, leaving "potholes" in your pool surface, it's time to resurface your pool.
There are a lot of different factors that can cause the pool's surface materials to break down and come off, such as:
Pool Use: Years of heavy use and neglect can wear down the surface of your pool.
Age of Surface: Time can breakdown the aggregate compound composition and will start to show the underlying pool cement or gunite surface.  A Diamond Brite or Florida GEM finished surface typically lasts 5-10 years depending on proper water chemistry and maintenance.
pH Levels Unbalanced: If the pH levels for the water are not balanced properly it can expedite the deterioration of the pool surface.
Pool resurfacing is important to have done as soon as you notice problems. Once the surface layer starts to flake and chip off, it will continue to deteriorate and may cause leaks, if it has not already started.
4) Your Pool is Leaking
Notice puddles where they shouldn't be?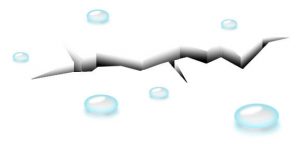 Don't wait to have your pool resurfacing or pool repair work done. The longer you wait to repair a leak in your pool, the more it is going to cost you to fix it.
Watch for the telltale signs of a leak and see if it is time to repair or resurface your pool:
Cracking: Visible cracks or gaps in the concrete in or around your pool are a sure sign of a leaking pool. If your pool isn't leaking, these issues should be addressed anyway for your safety.
Low Water Level: If your pool water seems to evaporate faster and the pool water level is lower than normal, even with routine maintenance.
Loose Tile: When the waterline tiles are Loose or falling off, it can be a sign of a pool leak. These should be repaired even if your pool is not leaking to protect the pool surface from deterioration at the waterline.
Wet Surroundings: Often if you see unusual wet areas near the pool area that don't normally happen with rain or lawn sprinklers, it could be caused by a leak in the pool.
If you are noticing any of these signs or think you may have a pool leak, contact us and we will perform an inspection and give you a Free Estimate for pool repairs or pool resurfacing.
5) You're Ready for an Update
About time for your pool to have a facelift?
Pool Resurfacing can transform and enhance the way your pool looks, with color and style beyond just repairing and routine maintenance of your pool surface. Resurfacing your pool will give you the opportunity to update the space, change the materials like waterline tiles, designs, and aggregates. There are many color choices for Diamond Brite and Florida GEM pool plaster along with textures to create a pool entertainment space that is unique to your color palette and style. There are many trendy options that can turn your pool in a luxurious oasis, while also fixing any surface issues. While you are doing a pool resurfacing or repair, you can take advantage of the situation by remodeling your pool with some luxury upgrades like a sun shelf, hot tub spa, fountain, or waterfall to enhance your pool features. These additions not only enhance your enjoyment of your backyard oasis but also increase the resale value of your home.